Dear international guests,
welcome to the BettaForum, the plattform for labyrinthfish friends.
We are a group of mainly Austrian, German and Dutch labyrinthfish breeders, probably with a focus on showbettas and wild bettas. However also a nice group of international breeders from other countries joined us over the years.
Although this forum is mostly in German, we are very happy about international members and looking forward to your contributions to the forum. Both English and German threads are very welcome here.
However due to techniqual circumstances it is not possible to have the registration procedure working in both languages. This is why we created a little tour guide to assist you to register successfully.
Please follow step by step:
1. First please press register in the menu above.
2. This is the first page you will see:
This is our agreement which is translated here:
While the administrators and moderators of this forum will attempt to remove or edit any generally objectionable material as quickly as possible, it is impossible to review every message. Therefore you acknowledge that all posts made to these forums express the views and opinions of the author and not the administrators, moderators or webmaster (except for posts by these people) and hence will not be held liable.
You agree not to post any abusive, obscene, vulgar, slanderous, hateful, threatening, sexually-oriented or any other material that may violate any applicable laws. Doing so may lead to you being immediately and permanently banned (and your service provider being informed). The IP address of all posts is recorded to aid in enforcing these conditions. You agree that the webmaster, administrator and moderators of this forum have the right to remove, edit, move or close any topic at any time should they see fit. As a user you agree to any information you have entered above being stored in a database. While this information will not be disclosed to any third party without your consent the webmaster, administrator and moderators cannot be held responsible for any hacking attempt that may lead to the data being compromised.
This forum system uses cookies to store information on your local computer. These cookies do not contain any of the information you have entered above; they serve only to improve your viewing pleasure. The e-mail address is used only for confirming your registration details and password (and for sending new passwords should you forget your current one).
By clicking Register below you agree to be bound by these conditions.
Please choose this sentence underneith the agreement and klick it saying : Ich bin mit den Konditionen einverstanden (I agree with the above conditions)
Ich bin mit den Konditionen nicht einverstanden (I disagree with the above conditions)
3. Then you will see the following screen:
It sais Registration as a headline.
1st line: pls fill in your desired username
2nd line: pls fill in your email address
3rd line: pls fill in your password (minimum 6 fonts and/or numbers)
Press "Absenden" (send)
4. Then you will see this on your screen:
It sais registration as a header (again)
1st line: Please repeat your password
Press "Absenden" (send)
5. What can happen in some cases is that the program thinks your password is too easy and could be hacked. If this is so, you will have a red line in the middle telling you so: Ihr Passwort ist zu einfach.
or it tells you you didn't use enough fonts/numbers (min 6 - max 36)
Whatever happens please: .
In the vacant line please fill in a somewhat more complicated password. If you e.g. only used letters combine them also with numbers….
Press "Absenden" (send)
Then reconfirm (as described above) and press "Absenden" again.
6. This screen follows that tells you your registration was successful.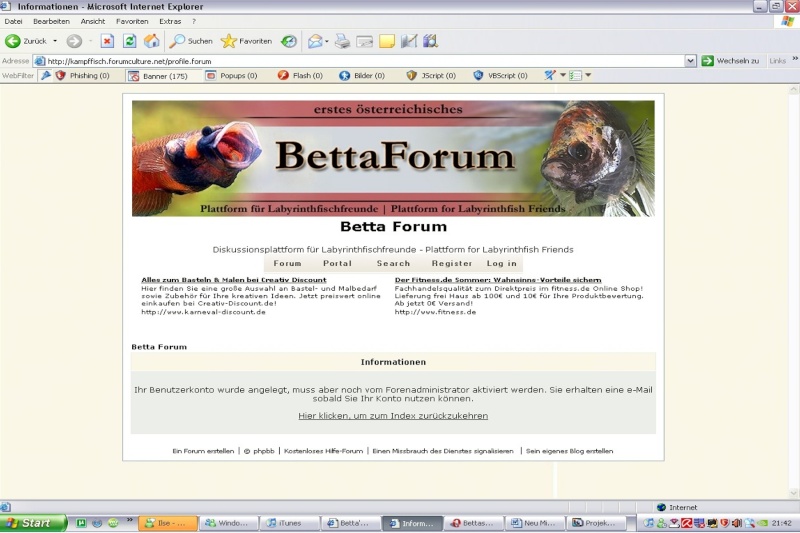 It sais "information" as a headline.
And then in the grey box: Your account is registered but has to be activated by the administration. You will be sent an email, as soon as you can use your account.
And underlined the last sentence: Click here, to go back to Index
We hope this little guide will be helpful to register and join our community

Welcome to the BettaForum. Have a nice time here with us and enjoy your visits!
Kind regards,
the BettaForum Team