Hallo an alle!
Da Bratislava nur einen Sprung von Wien ist, wäre dies sicherlich eine tolle Gelegenheit mal eine Betta Show live mitzuerleben. Daher kopiere ich auch mal hier die Eckdaten dieser Ausstellung.
Ich hoffe dass auch andere zu der Ausstellung fahren werden und vielleicht auch selber ausstellen werden. Also ich bin auf jeden Fall dabei. Vielleicht mag ja noch wer mitfahren.
Und hier nun eine Kopie der Einladung welche die Kollegen aus der Slowakei vorbereitet haben:
Klub.Akva.Sk and Splendenspower.cz forum (Chapter of IBC) invite you to the
Aquarium Autumn in Bratislava
in conjunction with the 6th annual international Betta exhibition
newly sanctioned according to the IBC standard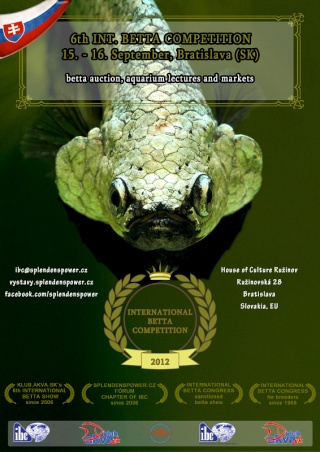 The 6th annual international Betta show and Aquarium Autumn in Bratislava.
The event includes afternoon lectures, a program for children, competitions, a club stand and a traditional fish market with a wide range of goods available from a number of sellers.
All information you can find here:
http://vystavy.splendenspower.cz/
(EN is available at the buttum of the page)
About us:
http://vystavy.splendenspower.cz/page/chapter-of-ibc-en
Facebook:
https://www.facebook.com/splendenspower
Dates of the exhibition:
15th and 16th of September, 2012
The benching of the fish at the show takes place on Thursday 13h September 2012 between 13:00 -20:00. The last change for delivery of the fish is Friday 14th August 2012 at 09:00, at which point the judging begins and no further entrants will be accepted.
Opening hours:
Saturday: 09:00 – 17:00
Sunday: 09:00 – 13:00
Classes and prizes:
38 classes
•medal for every 1st place
•a certificate for every 1st-3rd place
The 8 best fish – "Best of Variety"
•a trophy for every variety
•a certificate for every variety
4 absolute winners – "Best of Show" and "Reserve Best of Show"
•a trophy for every winner
•a certificate for every winner
Judging standard:
The exhibition will be judged according to the standard of the International Betta Congress.
http://forum.splendenspower.cz/viewtopic.php?f=20&t=2744
Show chairman:
Branislav Barčin
email:
ibc@splendenspower.cz
telephone: + 421 904 142 501
Judging team:
•Marion Schultheiss (Kampffischfreunde.de, Germany) – Head Judge
•Peter Bärwald (Kampffischfreunde.de, Germany)– Judge
•Manuela Bärwald (Kampffischfreunde.de, Germany) – Apprentice Judge
•Sven Wagner (Kampffischfreunde.de, Germany) – Apprentice Judge
•and others
Auction of the fish:
The minimum price of the fish is at the breeder's discretion. 75% of the final selling price is paid directly to the breeder! More information is available on the competition entry forms.
Auctions of the exhibited fish will occur at pre-determined times throughout the entire weekend. The winning fish will be announced on Sunday during the results ceremony, during which the prizes will be given to the respective breeders. Exact times will be determined at a later date.
Admission fees to the exhibition:
1.5 euros; children accompanied by an adult free of charge.
Competition participants receive free entry throughout the
whole weekend.
Entry fees for the competition:
2 euros per fish
The class "E3 – Pairs" counts as 1 fish for the purposes of entry fees.
Exhibition address:
House of Culture Ruzinov
Ružinovská 28
Bratislava, Slovakia
Free parking is available
Previous years:
If you would like to see photographs from previous years, please click on the
following links:
2011
http://forum.splendenspower.cz/viewtopic.php?f=24&t=2696
2010
http://forum.splendenspower.cz/viewtopic.php?f=24&t=2269
2007 – 2009
http://forum.splendenspower.cz/viewforum.php?f=23
We are looking forward for your participation and your visits
With kind regards
Tomas Chuda